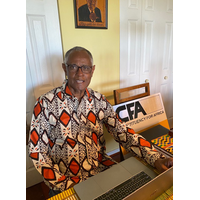 The Ethiopia & Eritrea Returned Peace Corps Volunteers can boast a multitude of individuals who have contributed to the betterment of the nation and to the world. One of our esteemed colleagues is Melvin P. Foote (full biography follows) who served in Eritrea and Ethiopia from 1973-76, during which time he was evacuated from Eritrea to Ethiopia.
As was the case for many of Volunteers, his life was transformed by the experience and it remains a significant influence in his personal and professional life. As Founder and President of the Constituency for Africa (CFA), he has many opportunities to explore issues that are relevant and timely. In 2010, Mr. Foote joined a delegation for Returned Peace Corps Volunteers, which included the late Michael McCaskey, whose family owns the Chicago Bears NFL franchise; Hon. John Garamendi, now Congressman from California; Chic Dambach; and Circuit Court Judge, Bill Canby, for a trip to Ethiopia and Eritrea in an effort to stop the war that had resulted in some 10,000 deaths. The team met with the Presidents and political leadership of both countries and urged them to consider a path to peace.
In mid-September 2020, CFA convened the Ronald H. Brown African Affairs Series, of which one presentation is of particular interest to Returned Peace Corps Volunteers and potential recruits. It is The Role of African Americans in the Post-pandemic Peace Corps. The series is named after the late Ronald H. Brown, who served as the US Secretary of Commerce during the Clinton administration and who previously was the chairman of the Democratic National Committee.
Featured presenters scheduled included Congresswoman Karen D. Bass (D-CA), Chair of the Congressional Black Caucus, and Chair of the House Sub-committee on Africa and Global Health, as well as Dr. Darlene Grant, who has been recently hired by the Peace Corps as the Senior Advisor to the President, to assist with strategic planning and to address issues of diversity in the organization. Unfortunately, Hon. Bass was called away for an important meeting, but did join the series on September 18 for the meeting with the head of the Africa Centers for Disease Control and Prevention, Dr. John Nkengason to discuss and update on the impact of COVID-19 in Africa.
Panelists included: Dwayne Matthews, Diversity Recruiter, Office of Peace Corps; and Cliandra Thompson, Communications Professional and Creator of Adopt a Black PCV Exchange.
Although relevant at any time, the session was especially timely in light of recent events: the evacuation of over 7,000 Peace Corps Volunteers worldwide as a result of the COVID-19 pandemic, the murder of George Floyd in Minneapolis, and the subsequent Black Lives Matter protests that have taken place across the United States and around the world. As an outgrowth of these events, questions have been raised about issues of racism and diversity in the Peace Corps as well as in other U.S. government agencies.
The presenters and panelists discussed ideas for increasing the recruitment of African Americans and other minorities into the Peace Corps and offered perspectives and recommendations for policy changes as Peace Corps re-emerges after the COVID-10 pandemic abates.
The full session is available at the following link:
http://ronaldbrownseries.org/sessions/the-role-of-african-americans-in-the-post-pandemic-peace-corps/

BIOGRAPHY
Melvin P. Foote, Founder and President Constituency for Africa (CFA)
Mr. Melvin P. Foote has worked on African issues for more than 35 years. He is the Founder and President of the Constituency for Africa, (CFA), a 25-years old Washington, D.C.-based network of organizations, groups and individuals committed to the progress and empowerment of Africa and African people worldwide. CFA's mission is to build public and private support for Africa, and to help shape U.S. policies towards Africa. In 2002 Mr. Foote also founded the African American Unity Caucus (AAUC), a broad-based coalition of African-American and other Americans of African descent, who lead or are leaders of Africa-focused organizations and groups -- to promote Pan-African cooperation and to link Diaspora leaders in the Western Hemisphere with the African Union (AU), as part of their "sixth region" outreach initiative. Further, he serves as a consultant to the World Bank on African Diaspora issues as well as advises the African Union's Ambassador to the United States.
Mr. Foote has traveled and worked extensively in more than thirty-five African countries. To start his career, from 1973 – 1976, he went to Eritrea and Ethiopia as a U.S. Peace Corps Volunteer and teacher. From 1981-1984, he served as Africare's Representative in Somalia, where he designed and managed a number of projects and programs that addressed issues of refugee assistance and rural development. From 1984-1994, he was reassigned to Africare's Washington headquarters as their Director of Development Education and Constituency Development, which eventually led to the founding of the Constituency for Africa.
Mr. Foote has participated in numerous high-level missions to Africa, including as a participant on a White House delegation to assess the impact of the genocide in Rwanda in 1994; as a Member of a high profiled team of former Peace Corps Volunteers, that sought to end the war between Ethiopia and Eritrea in 1998; as a member of a Presidential mission to five African countries in 1998 to promote U.S. trade with Africa and the African Growth and Opportunity Act; as the leader of a mission to reach a comprehensive peace agreement in Sudan in 2001; and as the leader of a delegation to South Africa in 2003 to assess the New Partnership for African Development (NEPAD), a continent-wide initiative to promote economic integration and development. Mr. Foote, who conceived the idea for President Barack Obama's Young African Leaders Initiative (YALI), in December 2010 traveled to Senegal and Gambia at the behest of the State Department, to address young African leaders on U.S. – African relations.
Mr. Foote is the recipient of numerous high level awards and recognitions including the "Ordre National du Lion" Award in 1998, which is a prestigious public service honor from the Government of Senegal, and the Congressional Black Caucus 2001 Annual Legislative Conference's Diggs Award for Foreign Affairs in recognition of his outstanding commitment and achievement on issues and concerns pertaining to Africa. In the summer of 2011, Mr. Foote was named by Western State College of Colorado, as part of the schools Centennial Celebrations, as one of the "top 100 Westerners" in the history of the school. In 2014 Mr. Foote was presented the highly prestigious "Leadership Award" by the National Newspaper Publishers Association, a network of more than 200 African-American newspapers nationwide, and in 2015 he was honored by the ECOWAS Ambassador Corps in Washington as part of their salute to AfricanAmerican leadership. Others honored on that auspicious occasion were the Assistant Secretary of State for African Affairs, Ambassador Linda Thomas-Greenfield, the Ranking Member of the House of Representatives Sub-Committee on Africa, Congresswoman Karen Bass, the Director of the Smithsonian National Museum of African Art, Dr. Johnnetta B. Cole, and the US Trade Representative for Africa, Florizelle Liser.
Mr. Foote is a regularly requested speaker on radio and television as well as a prolific writer of articles and editorials featured in newspapers and magazines across the United States and in Africa.
---