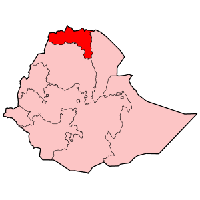 You served Ethiopia in the past. It's time today to serve Ethiopia once more!

Do you remember your first days in Ethiopia as a volunteer?
The smell of eucalyptus? The taste of berbere? The beauty and friendliness of the people?
That normalcy has been shattered in the northern province of Tigray when armed conflict between the Ethiopian government and the Tigray People's Liberation Front broke out in November 2020.
Bombs and military actions haven't resolved it.
Instead, ordinary citizens have become the victims of the conflict, leading to ethnic violence including murder, rape, hunger, starvation, and massive refugee displacement.
Sadly, the fighting is still ongoing.

The people of Tigray need our help!
In light of this immense suffering, E&ERPCVs is launching a special fundraising campaign for humanitarian relief in Tigray.
In all our current and previous efforts to raise funds for Peace Corps Legacy Program projects, E&ERPCVs, as a 501(c)(3) organization, has partnered with non-governmental organizations (NGOs) to implement educational and healthcare projects in Ethiopia and/or Eritrea.
In the case of the Tigray, we have had direct contact with three internationally respected charitable organizations that currently have staff working on the ground there: Doctors Without Borders/Medecins Sans Frontieres, International Rescue Committee, and Save the Children. We are monitoring the situation closely and just as we have done with other Ethiopia-based NGOs, we look forward to working with these organizations to direct the funds where they are most critically needed. Though they have operations worldwide, all three have assured us that any funds we give them will be earmarked for Tigray relief.
To kick off our drive, the Board of E&ERPCVs is pledging to donate $1,000. We hope you can join us in this endeavor.

How to Help
You can donate either on our donor page with a credit card, or by sending a check to:
Ethiopia and Eritrea RPCVS, Inc.
1634 Martha Terrace
Rockville, MD 20852

Your check should be made out to Ethiopia and Eritrea RPCVs, Inc. and should include "Tigray Relief" on the memo line. Also please include your home and email addresses with your donation so that we may quickly acknowledge your gift.
We thank you for your support.
---